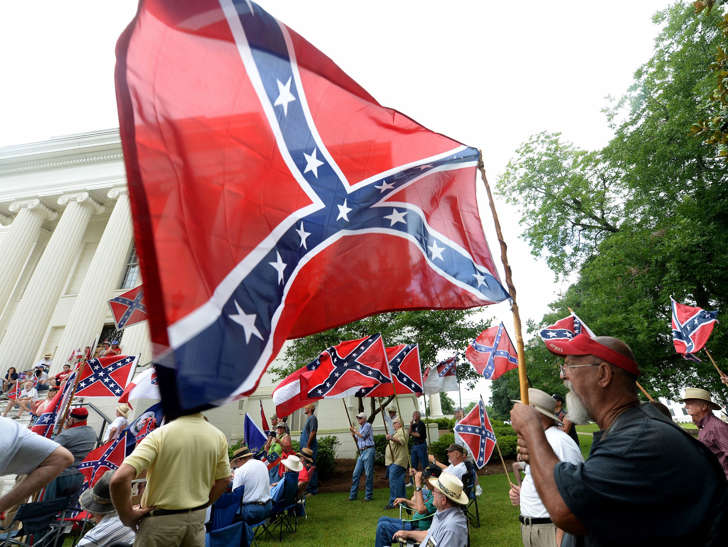 © Julie Bennett/AL.com via AP
Supporters gather for a rally to protest the removal of Confederate flags from the Confederate Memorial Saturday on June 27 in Montgomery, Ala.
(Editor's Note: Slavery, Concentration, Death, Segregation and Internment camps throughout their lengthy worldwide history are all about divide and conquer. Separating people into White and Black racial groups, for example during the Boer War, was a mainstay of the British Concentration Camps in South Africa.
Putting one type, sex, "race" or group of people into one place, and putting another one or other ones into other places...racial segregation makes it easy as pie. Sexual or other mistreatment is forever deeply involved.
The more people are separated out -- the easier they ALL are to kill.)
**********************
An eight-mile convoy of pickups, motorcycles and cars wound through a central Florida town on Sunday in a show of support for the Confederate flag, as a backlash against its banishment from public landmarks across the South picks up steam.
Horns blared and hundreds of the rebel flags fluttered as more than 1,500 vehicles and some 4,500 people turned out for the "Florida Southern Pride Ride" in Ocala, according to police estimates. Vehicles from states across the South and as far away as California participated.
"That flag has a lot of different meanings to a lot of different people," said David Stone, 38, who organized the event. "It doesn't symbolize hate unless you think it's hate - and that's your problem, not mine."
Organizers announced the event as the South embarked on an emotional debate over the flag's symbolism in the aftermath of the massacre of nine blacks by a white gunman in a Charleston church last month. The suspect in the church shootings had posed with the flag in photos posted on a website.
In South Carolina, lawmakers moved quickly to take the flag down from the statehouse grounds in Columbia, a longstanding demand of those who see it as a divisive symbol of the South's pro-slavery legacy.
Alabama and scores of municipalities have take similar steps since the June 17 massacre.
But the national push to pull the controversial icon from stores and public displays is being met with determined resistance in some corners of the United States.
Supporters such as those who drove through Ocala on Sunday insist the flag is a honorable symbol of regional pride, a mark of respect for Southern soldiers who died in the American Civil War.
In Ocala, the seat of Marion County, an administrator had ordered the Confederate flag's removal from a government complex. But last week county leaders overruled the order and the banner is again flying atop the building.
"It's just about heritage. I'm upset they want to remove a piece of history," said Jessica McRee, 29, an Ocala native and employee of a law enforcement agency who participated in Sunday's ride.
In Hurley, Virginia, the rebel flag is more visible than ever as residents show their support for keeping the local high school's logo, which features the Confederate flag waving from a saber.
'BACKLASH IS BEGINNING'
Mississippi, whose state flag incorporates the design of the Confederate banner, is divided. The city of Hattiesburg has removed all state flags from city buildings, but just three miles away, the town of Petal has voted to fly the state flag at all of its city buildings.
Mississippi Republican Governor Phil Bryant has refused to call a special legislative session to address the issue, resisting calls to do so from leading state officials. In a 2001 statewide referendum, Mississippians overwhelmingly endorsed keeping the current state flag's design.
"A backlash is beginning," said Ben Jones, a spokesman for the Sons of Confederate Veterans, which represents 30,000 descendants of Confederate soldiers. "We are putting flags out. Everyone time one is taken down, we put five or six of them up."
Jones, a former Democratic congressman from Georgia who starred in the hit 1980s TV comedy series "The Dukes of Hazzard," said he has been selling out of the replicas for sale at his show-themed stores in Tennessee and Virginia. The show featured a stock car dubbed the General Lee with an image of the Confederate flag on its roof.
And North Carolina's Department of Motor Vehicles recently sold out of a series of specialty license plates featuring the Confederate flag, local media reported. It has ordered more of the plates, which may be discontinued in the future.
Not everyone in rural Ocala was in sympathy with the ride, which police said was peaceful.
Galina Abdelaziz, 18, a recent Ocala high school graduate, stood with three others protesting the flag at the beginning of the parade route.
"It's really discouraging to me to see this in my hometown," Abdelaziz said.
The terminus of the parade had been changed at the last minute to avoid a largely black neighborhood where residents opposed the event, according to Ocala Sergeant Robie Bonner. (Additional reporting by Therese Apel in Jackson, Mississippi and Karen Brooks in Austin, Texas; Writing by Letitia Stein in Tampa, Florida; Editing by Frank McGurty and Paul Simao)